PSBA aims to protect the right of its members and to promote the Stock Brokerage Industry.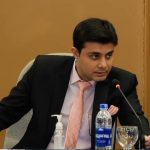 Mr. Zardi is the Secretary General (SG) of Pakistan Stock Brokers Association (PSBA). He holds a masters degree in International Relations and multiple certifications on working ethics and disciplines.
He brings with him a range of professional, board-level and senior management industry experience that spans almost a decade. His areas of expertise are business development, marketing, operations, corporate laws, secretarial practices, audit and finance, and legal matters of the company. He has worked in a number of senior roles and has brought with him valuable skills and experience of senior management. Being the face of the Association, his area of responsibilities also includes overseeing the operations and representing the Association in all the matters before the concerned authorities.
In addition, he has served in various committees, formed for the development of Pakistan's capital market. He has played an instrumental role in forming of this federal based organization to represent its members on all-Pakistan basis. He has also expertise in policymaking, managing the teams, compliance function, and ensuring timely deliveries. He is involved in liaising with provincial and government authorities in various matters pertaining to the Stock Market